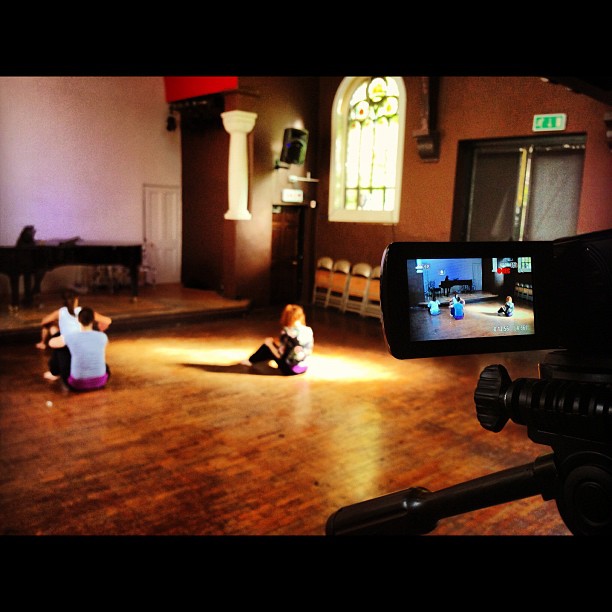 Are you interested in learning how to film dance, and video editing techniques? Have you already started out in filming and are seeking to learn more, or have you suffered from one bad set of footage too many and want to learn how to film and edit your own footage in future? And most importantly, how to make it look good!
Cloud Dance Festival offered all-day masterclasses on 15, 16 and 17 November 2013 as part of our festival Showtime, for up to 10 IdeasTap members each day.
The masterclasses were taught by Anna Ramsay and Sabine Klaus, who have substantial experience of working in the industry as well as teaching similar masterclasses.
These masterclasses were aimed to address the shortage of people who can film shows well, and the growing problem of poor performance footage. They were taught by leading screendance professionals.
The masterclasses started with an introductory talk followed by spending the morning learning about different filming techniques and equipment while filming several technical rehearsals in preparation for the evening's performances. The afternoons were spent learning video editing techniques; each participant worked individually or in groups in creating a short film, enabling them to put their new skills to practice.
We were able to offer a range of professional-standard filming equipment for participants to use, however participants were also welcome to bring their own equipment.
To view the completed videos, please visit this page: www.cloud-dance-festival.org.uk/270-dance-on-film-workshop-videos
Anna Ramsay

Anna Ramsay is a filmmaker, editor, arts manager and producer living and working in London.
Anna trained at Laban and worked as a dancer and filmmaker for several years before refining her practice through the MSc Screendance programme at Duncan of Jordanstone College of Art, under the watchful eye of Simon Fildes and Katrina McPherson.
Anna's practice focuses on improvisation and explores the role of the dancer in performance on screen through the use of real-time editing and movement scores. Anna works to capture moments of interaction between dancers, guiding the viewer towards chance encounters, detail and happenstance.
Anna has worked as camera person and editor for clients including Inside Dance TV, Scottish Dance Theatre, Dance UK and Jack Webb, documenting performances choreographed by Liv Lorent, Adam Benjamin and Janet Smith.
Anna has also delivered professional development workshops for Roehampton University and has worked closely with students from The Scottish School of Contemporary Dance.
Sabine Klaus
In 1990's until 2001 in Germany, I trained under Ludmilla Schnell a former Bolshoi Ballerina as well as at New York City Dance in Stuttgart with a former Kirov Ballerina. And then I was lucky enough to be taught by the Legat Ballet teacher Moira Wanless in Dundee 2001-2005 who is also a member of the Russian Ballet Society. My ballet training and studying performance art at Duncan of Jordanstone led me to create dance works with video. From producing video dances, documentations of performances (my own and other's) and also to build interactive dance installations. Projects like those allowed me to work with the National Theatre of Scotland as well as producing dance documentaries for USA Tendu TV dance channel, document the biggest dance event in Norway and to film Shanghai Dance in China. My dance films TRENCH screened from Japan to Brazil and my video A_WAY_AWAY won the prestigious "Most Talented Young Artist" (the Roland-Riegger) award in Germany in 2007 (http://www.ideastap.com/ideasmag/all-articles/sabine-klaus-dancer-and-filmmaker).

In 2011 and 2012, I worked as technical assistant and 1st AD with Katrina McPherson and Simon Fildes on their award winning video projects.
Currently I am working on a video documentation and promotional video for London based dance company MurleyDance.