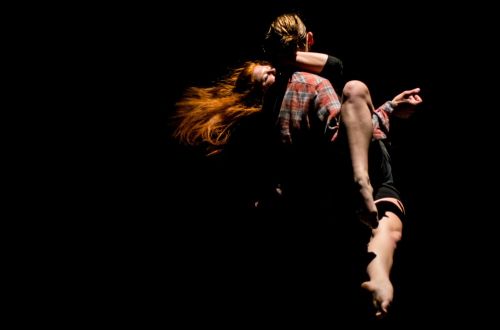 Thursday 27 November at 7.30pm at Seven Arts, Leeds
Made Up North is a contemporary dance platform showcasing the works of dance artists either from the North, based up North or who have trained in the North, encouraging us to appreciate the diversity of work being created by the people of this region.
It is also an opportunity for people to discuss the changes to the dance industry in the North, what changes they want to see and their role within it. So basically, a show with a postshow talk!
For our end-of-the-year edition, we'll be presenting works by theMiddletonCorpus (Leeds), Lo-Giudice Dance (Newcastle), Hal Hub (London-based, from Yorkshire), and Rachael O'Neill (Leeds). There will be a postshow discussion and Q&A with the choreographers to discuss their work and its wider context, so please do stay for that!
Anthony Middleton has worked with the BalletBoyz and Motionhouse and is now developing his choreographic career and seeking ways of creating further professional development opportunities for Yorkshire-based dance artists.
His choreographic style for theMiddletonCorpus draws on his training in acrobatics to create graceful and sculptural effects, and his choreography has been receiving increasing critical acclaim over the last few years. He received extremely positive feedback for his last work, 'It's What You Don't See', which was presented at the last Made Up North in March; following his relocation to Leeds in the summer, he is now working on two new pieces, 'Fragile Descent' and 'Prototype'.
Anthony Lo Giudice is a rising choreographer based in Newcastle whose works draw on neoclassical and Baroque influences to create visually striking work with theatrical elements. His work has been commissioned and presented in the UK, Italy, Spain and the Czech Republic, and in 2013, his work 'Distant Light' was commissioned by the Northern Sinfonia and performed at Sage Gateshead.
Hal Hub is the creation of Matt Lackford and Thomas Hands. Matt is originally from Yorkshire and trained at the Scottish School of Contemporary Dance and London Contemporary Dance School. He has created work for the Scottish School of Contemporary Dance, and in 2013, he created Hal Hub with fellow Yorkshire expat Thomas Hands, who trained at the Northern School of Contemporary Dance and London Contemporary Dance School. Hal Hub will be presenting a new work for four dancers.
Rachael O'Neill, originally from Glasgow, trained at the Northern School for Contemporary Dance and toured with their postgraduate company Verve, performing works by Jamaal Burkmar, Lea Anderson and Ben Duke, winning the Postgraduate Overall Outstanding Achievement Award. Since graduation, she has worked with WatkinsDance and Earthfall Dance Company, and she has recently participated in the Kerry Nicholls Professional Mentoring Programme. She will be presenting an excerpt from the work she is currently researching.
Made Up North is produced by Chantal Guevara of Cloud Dance Festival, who has been promoting talented choreographers and promising contemporary dance companies since 2007 - and this will be her unofficial Northern birthday bash, so please do join us for a drink afterwards!
Tickets can be bought from Seven Leeds by phone at 0113 26 26 777 or online here: www.sevenleeds.co.uk/clients/sevenarts/MODULES/DIARY/DIARYMOD_item.asp?type=theatre+%26+dance&itemid=359
Details
Show: Made Up North
Date: Thursday 27 November
Time: 7.30pm
Tickets: £7.50 / £5
Venue: Seven Arts
Address: 31A Harrogate Road, LEEDS, LS7 3PD
Box Office: 0113 26 26 777
Online ticket sales: https://www.ticketsource.co.uk/search/searchEvent.asp?sid=&event_id=72531
Website: www.madeupnorth.org.uk