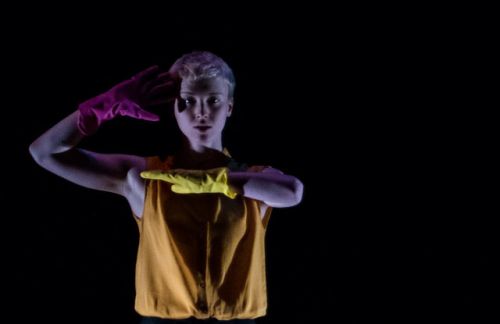 Now that the Christmas season is over and we no longer have that excuse to splurge excessively on Prosecco, chocolate and whatever else people splurge excessively on this time of year, why not use those funds instead to support any number of dance-related crowdfunding campaigns? If you actually have any money left over, that is - but as you know with crowdfunds, every penny counts. Once you deduct the website's and Paypal's fees, that is...
Crowdfunding sites are generally very painful to wade through - dispelling the myth that countless random strangers will stumble across your campaign and be compelled to donate generously (despite a weird glitch this evening which converted the category links on Crowdfunder to Autin Dance Theatre's expired 2014 campaign), so here are the key campaigns in need of your support right now.
There are probably many other crowdfunding campaigns, but I didn't come across them, and I'll aim to keep this page updated as crowdfunds come and go.
StopGAP Dance Company: Please help raise funds for a Power Assist for David Toole's wheelchair
Link: www.crowdfunder.co.uk/dave-tooles-wheelchair-power-assist
Deadline: 9.44am on 22 January 2016
David Toole is one of this country's best-loved and best-known integrated dancers, with a career spanning over two decades and a starring solo in the 2012 Paralympics Opening Ceremony. Currently David is reliant on assistance to get around, but not only would a Power Assist grant him independence of movement, it would also give his arms a break and help him extend his career for much longer - which we all want.
On the crowdfunding page, you can see clips of David in DV8's The Cost of Living and StopGAP's Artificial Things.

Nora Moves: Help Nora with the cost of touring their production
Link: www.kickstarter.com/projects/noraontour/nora-on-tour
Deadline: 12.39pm on 24 January 2016
What do you get if you pair Eleanor Sikorski and Flora Wellesley Wesley? Nora, of course! In what they've said is their "most conventional project yet" (I was eavesdropping on a radio interview a few weeks ago in The Place's cafe), they have commissioned works from Liz Aggiss, Jonathan Burrows and Matteo Fargion and Simon Tanguy, which they performed to great reviews and full houses at Sadler's Wells at the end of 2015.
They now want to bring the magic of Nora to other places, so they need your help to cover their costs of doing so. And in a lovely quirk, their perks keep it real, letting you know exactly what you're helping to cover with your contribution, eg £5 will help them lug their props and bags to the theatre by taxi from the station, while £10 will pay for lunch; at the opposite end of the spectrum, £1000 will cover the costs of one tour date. More crowdfunds should take this approach, we think.

Jack Webb: please help him where Creative Scotland did not
Link: www.indiegogo.com/projects/the-end-a-new-dance-performance#/
Deadline: 5 March 2016
Jack Webb is an Edinburgh-based choreographer with a very individual style which he has been developing over the past 10 years of his career. Trying to create original work is challenging enough without the national funding body - Creative Scotland, in this case - deciding not to fund your latest project, so Jack needs your support to help him develop his latest work, THE END, which is a co-production with Tramway in Glasgow, which will explore the definition of "the end" in a myriad of contexts.

Rachael O'Neill: please help her cover the costs of rehearsal space for her next R&D
Link: www.indiegogo.com/projects/any-part-of-you-will-do-a-new-dance-theatre-work#/
Deadline: 29 January 2016
Photo copyright: Chantal Guevara
Rachael O'Neill is a very interesting Leeds-based dance artist, whose work we showed at our last Made Up North show in Leeds last November. She has planned three weeks of research and development for her latest work, however the studio which had offered her in-kind rehearsal space lost their own funding, so now she desperately needs the funds to cover the studio hire so that her R&D can take place. She's not asking for much, so please do help her if you can.