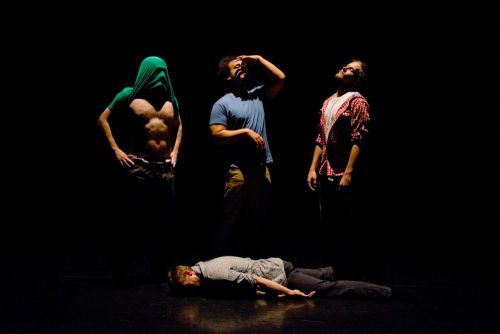 John Ross Dance was formed in 2011 by John Ross. Since then, John has went on to make many works for companies such as Dance United, Scottish School of Contemporary Dance and a musical for Old Vic New Voices. This is the company's second professional work: 'Man Down', a solo, toured for over a year all over the UK.
John has won several awards including 'The Scottish Ballet' Bursary and also 'The Donald Dewar' award. John has also won the prestigious New Adventures Choreographer Award and will spend the next year being mentored by Matthew Bourne, culminating in a showcase of his own work next year in London.

Wolfpack
Four Males. One night out. Looking at the stereotypical view on men in a duration of one evening. Fun and quirky, Boys will be boys, do they ever lose that inner child?
Choreographer: John Ross
Dancers: Tim Clark, John Ross/Jack Humphrey, Matt Lackford and Nathan Johnston
Music: Modeselktor - Grillwalker; Moderat - Seamonkey; Goran Bregovic - Farewell to Ireland; Drum Battle; O'Aled Sixela - The Foggiest Land; Fennez - Glide
Twitter: @JohnRossDance
Facebook: John Ross Dance