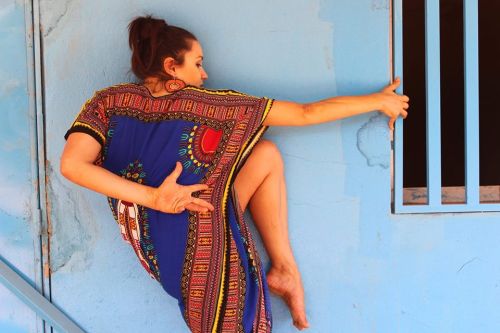 Avatâra Ayuso trained in ballet and Linguistics (BA and MA, Universidad Complutense de Madrid) before moving to London in 2004, where she obtained a Certificate in Higher Education at LCDS. In 2008, she obtained a Master Klass in Professional Dance by Palucca Schule Dresden. She was part of the D.A.N.C.E. programme where she worked and performed internationally under the artistic direction of William Forsythe, Wayne McGregor, Frédéric Flamand and Angelin Preljocaj.
Avatâra has received several awards including the Arras Preis für Kunst und Kultur 2010; the Young Artist of Saxony 2012; Lisa Ullman Travelling Fund UK; Business of Dance Bursary Dance UK; Dancer's Mentoring Dance UK; and by Arts Council England/Lottery Fund. Avatâra is Associate Artist of the European Center for the Arts Hellerau Dresden since 2010.
Since creating AVA Dance Company, she has developed short and full-length productions and has been commissioned by several institutions including Palucca Schule Dresden, Youth Dance England, Karlovac Dance Festival Croatia, Ministry of Culture of Azerbaijan and National Taipei University of the Arts. She has presented work internationally and in UK at The Place, South Bank Centre, Hackney Empire, Halcyon Gallery London, Hospital Club Gallery London and Dance Base Edinburgh.
Alongside choreographing and running own company development, Avatâra teaches professional contemporary classes and also performs regularly with Shobana Jeyasingh Dance.
Balikbayan (work in progress)

Balikbayan reflects on concepts such as acculturation, migration, alienation, identity, cultural shock and hybridization, based on (but not restricted to) Filipino female migration. Avatâra Ayuso has choreographed this work for Estela Merlos of Rambert Dance Company and brings together a group of collaborators, including anthropologist Kathrine Ann Cagat, dramaturg Ignacio Vleming and costume designer Marta Jiménez.
Balikbayan is a research and development contemporary dance project granted by Arts Council England, and supported by Pavillion Dance South West; Avatâra will be presenting an extract of the work based on her research so far.
Choreographer: Avatâra Ayuso
Dancer: Estela Merlos
Supported by: Arts Council England, Pavilion Dance, Filipino's Women Association UK
Dalcroze
"Rhythm is infinite, therefore the possibilities for physical representations of rhythm are infinite" (Dalcroze, 1912)
Concept, Choreography and Performance: Avatâra Ayuso
Production: Deutsche Werkstätten
With the support of: HELLERAU - European Centre for the Arts Dresden
Photo copyright Ana García Segura.
www.avataraayuso.com
Twitter: @AVADanceCompany
Facebook: Avatâra Ayuso Dance Company
A short dance film of Avatâra Ayuso