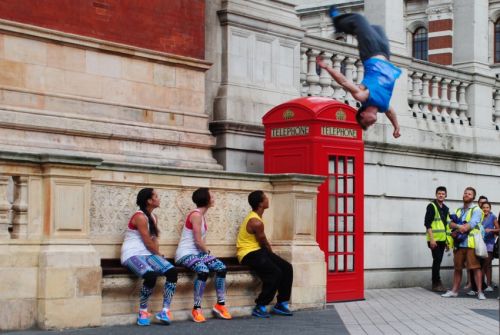 Friday 5 July. Ella Robson Guilfoyle trained as a dancer at Laban. Graduating in 2004 she has gone on to create a variety of work with an interest in cross discipline performance. Her highly physical vocabulary aims to energise and evolve, seeking new ways to use movement for storytelling.
Past projects include: Step It Out Watch This Space – National Theatre 2010, The Other Road Watch This Space – National Theatre 2011, SHE – Pleasance Theatre London for Cloud Dance Festival 2011, Lloyds Flame Followers Olympic Torch Relay Show 2012, Dark Side of Love – Roundhouse London July 2012, Exhibition Road Show Aug 2012, Floating Point – Aske Gardens UVA/Nike commission and Piccadilly Circus Circus – London Festival 2012.
Current Projects: Ella is working on Echoes, a show that integrates circus and dance to create an exciting and fluid vocabulary. The project, currently supported by Circus Space and East London Dance, is under development and will be touring in 2014.

THEM
The audience enters a wood; traveling through the enchanted trees they encounter women with tails, snakes for hair, wings and half creatures. They eventually stumble into a clearing of fresh soil. Disorientated and through the glimmering half light of the canopy, a strange happening unfurls around them as they are dragged into the mad, intoxicating world of this Bacchus like tribe of women all tainted by the hand of mythical misfortune.
Choreographed by Ella Robson Guilfoyle
Performed by Leyla Rees, Kassie starkey, Piedad Seiquer and Ella Robson Guilfoyle. Singer: Bethany Aggett
www.ellarobsonguilfoyle.com
Twitter: @Ellaguilfoyle