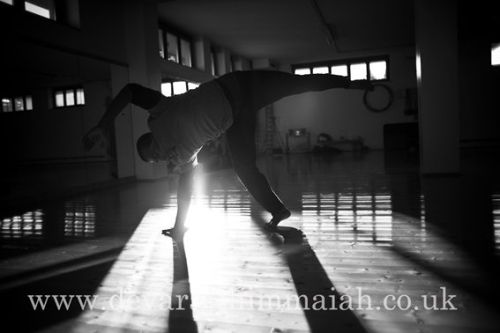 Devaraj joined Shobana Jeyasingh Dance Company in 2003 for Transtep including choreography by Lisa Torun, Fillip Van Huffel and Rashpal Singh Bansal. Since then he has performed in seven productions, touring nationally and internationally. Recently he danced for the world premiere of Bruise Blood with SJDC as part of Dance Umbrella Festival. He has also been part of site-specific footage for the BBC, SJDC's performance of Four Square in 'Diwali on the Square' festival at Trafalgar Square, and a collaboration with City Contemporary Dance (Hong Kong) in 2006. Devaraj joined Tavaziva Dance in December 2009 for the company's first full-length production 'Wild Dog' and toured in spring 2010. Devaraj also teaches and works with dancers in India and Italy as part of dance development programme.
Arranged Marriage
Now there is no more loneliness. Now you are two people, but there is only one life before you.

Choreographed by Devaraj Thimmaiah
Performed by Fukiko Takase and Devaraj Thimmaiah
Music concept: Alberto N. A. Turra
Photography copyright: Tommaso Balasso
Lighting: Rachel Shipp
Arranged Marriage was performed in Resolution! 2011 to wide acclaim. Here is a review by Graham Watts for Resolution Review:
"A powerful, superbly performed, duet brought this excellent programme to a close in Devaraj Thimmaiah's Arranged Marriage. A former dancer with Shobana Jeyasingh and Tavaziva, Thimmaiah has the rare performance quality of combining machismo, elegance and fluidity and he was consummately matched by the beauty of Fukiko Takase (Henri Oguike Dance Company). Supple, sinuous flexibility, with movement rippling through spines and shoulders and unfurling along Takase's long limbs into the very tips of her toes and fingers, raised the bar of anything I've yet seen in Resolution! 2011. Thimmaiah's choreography is punctuated by elements of Bharata Natyam and Capoeira within a broad contemporary structure that was often balletic in its use of developpés and arabesques. I always look at the words 'experimental piece' with foreboding since it can be an excuse for 'not yet finished', but Thimmaiah's fifteen minute choreography was not only complete but polished into a very fine gem. I would happily pay to see it again any day soon."
Website: www.devarajthimmaiah.co.uk