insufficient image data in file `/home/dancefesty_ps/grr/images/stories/showtime/_rehearsal/wolfpack/_DSC1105.jpg' @ error/jpeg.c/ReadJPEGImage/1039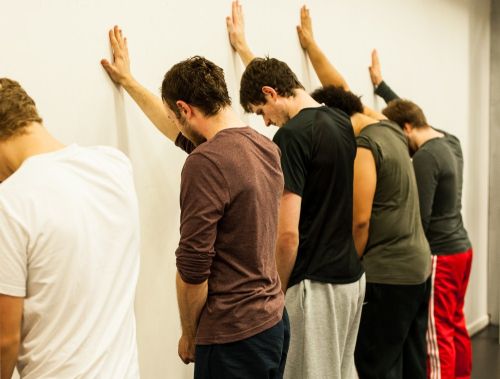 The first of the Showtime rehearsals we've covered so far was Wolfpack by John Ross Dance - and John's final rehearsal with the dancers before returning to Leeds, which made it a particularly thorough rehearsal, especially with two new dancers being trained up.
John Ross presented an excerpt of Wolfpack in its early stages in our July festival, Lacuna, and we're really looking forward to showing you the completed version on 16 and 17 November, even if the lack of the rear wall may be complicating things a bit! Further details of his performance can be found here.
John Ross's choreography draws on his initial training in drama: when he was still at drama school, he started to appreciate the scope and potential of dance, and so he started training at the Scottish School of Contemporary Dance before moving to London to train at London Contemporary Dance School - which he graduated from in 2011 with a first class degree. In September 2008, he made his first Cloud Dance Festival appearance: Olivia Vella had recently graduated from SSCD and was excited about creating a new work with him, telling me what an amazing dancer he was even back then.
As a choreographer, John doesn't believe in creating work for the sake of it: he's drawn to challenging and complex topics, ones which force audiences to react and think. Prior to Wolfpack, his last work was a hard-hitting solo, Man Down, about a soldier killed in Afghanistan, drawing on extensive research with soldiers and using their words as voiceovers. Even Wolfpack, which in July 2013 appeared to be lighthearted and playful, is now revealed to be anything but - but we don't like to give anything away. Other projects which John has in mind are along similar themes: he looks for a story which inspires him, whether of conflict, difficult situations or difficult choices, and uses storytelling as an essential choreographic device.
As many people know, John recently won the second New Adventures Choreographer Award, which offers him a year of mentoring by Matthew Bourne and his team, and an evening's showcase of his works at a Central London venue next autumn. James Cousins - also a Cloud Dance Festival alumnus - was the previous winner of this award, and has spent most of the 14 months since then touring internationally and being commissioned by dance and ballet companies worldwide - is this what awaits John?
Alongside his own choreography, John is becoming increasingly in demand by other companies for his choreography and movement work: his collaboration with Old Vic New Voices resulted in a What's On Stage nomination for their Best Choreographer Award, and, among other companies, he has regularly worked with Dance United, a company which does groundbreaking work in supporting young people with disadvantaged backgrounds through dance.
Here are some rehearsal shots of John working with his company on a flying visit to London (while working in Leeds with Opera North), and a trailer including an interview with Vanessa Pope.

Photos by Chantal Guevara
{sigplus}showtime/_rehearsal/wolfpack{/sigplus}