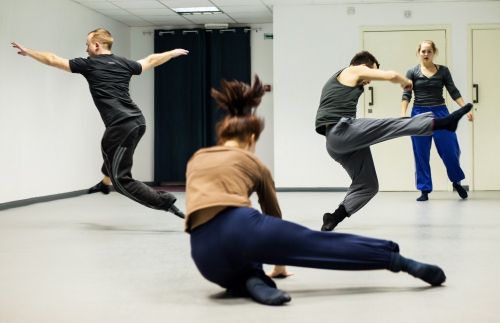 While we have always sought to support and promote dance artists based beyond London, that support is taken to a whole new extreme with a small army of dancers and choreographers heading down the M40 to all but take over our opening night - from Birmingham. Alongside Lo-Giudice Dance from Newcastle, our opening night Friday 15 November will be quite the celebration of regional dance, and be prepared to be amazed!
We visited Rebecca Namgauds, RDC and Autin Dance Theatre in Birmingham to watch them in rehearsal and interview them, so that we could offer you a trailer of their work and what they have in store for our audiences - and for each other, as in addition to creating new work, they're also dancing in each other's pieces.
The dance infrastructure in Birmingham is smaller than London, but extremely rich, with support from DanceXchange while resident companies include Rosie Kay, Sonia Sabri, ACE Dance & Music and of course Birmingham Royal Ballet. Rebecca Namgauds, Adam Rutherford and Johnny Autin easily represent the wealth of dance talent in the areas: Rebecca is an extremely talented new graduate, Johnny Autin has enjoyed a lot of success and recognition as a dancer for a wide range of companies, including all-male urban contemporary dance company 2Faced Dance, and Adam Rutherford has been working extremely hard in youth dance and as a rehearsal director for leading contemporary dance companies. While this offers Rebecca many opportunities to learn from Adam and Johnny, they were quick to say that they've been learning from her too, both as choreographers and as dancers.
This is the first time for each of them to be part of Cloud Dance Festival, although Johnny Autin premiered an extract of Taksim Square in July 2013 at our offshoot Cloud Dance Sundays, and he performed in Cloud Dance Festival back in 2008 - we reminisced about those festivals, and about how he was wearing the same trousers in July as in the 2008 festivals!
Part of our discussion was about their creative processes, and their inspiration for their new works. For Rebecca, the original inspiration came from frustrations she was experiencing at the time, and it was through winning a competition that she was able to present an early extract of it in July. But as time has passed, her original ideas have changed, and it's been fascinating to see her movement style develop over time. Johnny's Taksim Square Reloaded is a personal response to the Turkish riots earlier this summer, and his research process included details from close friends living there, who were able to provide him with anecdotes, imagery and clips which he wouldn't have otherwise had access to. Adam Rutherford took advantage of the opportunity to try a different way of creating his new work, using tasks to develop the movement rather than creating it all by himself.
Asking them what challenges they faced as dance artists was also interesting, given their differing stages in their careers, but all were clear that they felt it harder to gain exposure and recognition for their work, being based in Birmingham rather than London. This is a recurring sentiment we've heard from all of our non-Londoners, whether they're based in Liverpool or Birmingham. Rebecca in particular had expected it take her some time before being able to show any of her work, but you'll easily see why we were so impressed by her application if you come to see her show on the 15th.
We really enjoyed spending an afternoon with them - good friends as well as colleagues, who work together perhaps a little too well, considering the clowning around in rehearsals! We also enjoyed seeing how well they responded to each other's styles, and their dancers as well - you'll recognise Laura Vanhulle in both Rebecca's and Adam's rehearsals, while Johnny briefly improvised a solo for the camera. And wow!
Photos by Chantal Guevara