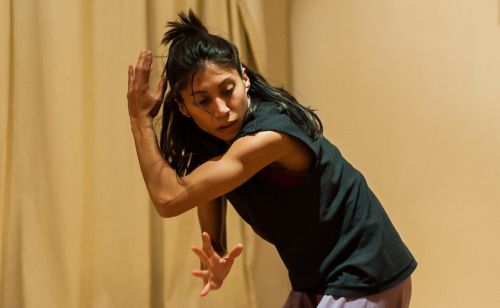 Avatâra Ayuso is in a rare position as an artist: she has a thriving career as a midscale choreographer in Germany, but in the UK, where she is based, she is primarily known as a dancer, but only in the early stages of developing her choreographic career in this country, with recent performances at Dance Base during the Edinburgh Fringe Festival and at Donald Hutera's Go Live festival at the Lion & Unicorn Theatre in Kentish Town. Avatâra will be presenting two works on Sunday 17 November: the UK premieres of Dalcroze and Balikbayan, a new solo created on Rambert dancer Estela Merlos, with the support of Pavilion Dance South West and Arts Council England. Further details can be read here.
Avatâra initially trained in ballet and linguistics in Madrid before moving to London to train further at London Contemporary Dance School - alongside Jo Meredith - before participating in D.A.N.C.E., a two-year pan-European training programme which allowed her to study under William Forsythe, Wayne McGregor, Frédéric Flamand and Angelin Preljocaj, and which enabled her to develop the partnerships in Germany which support her and her work to this day.
Avatâra was actually the inspiration for selecting Bernie Grant Arts Centre as a venue, as she'd previously told me that she needs midscale venues to accommodate her sets, but in fact, she is becoming more passionate about exploring sitespecific work, and dance in other locations, as she can find theatres too confining - which is why lighting plays such a significant role in her work.
The trailer and interview will be up shortly, but in the meantime, here are a few photos of Avatâra hard at work with Estela Merlos on Balikbayan...
Photos by Chantal Guevara