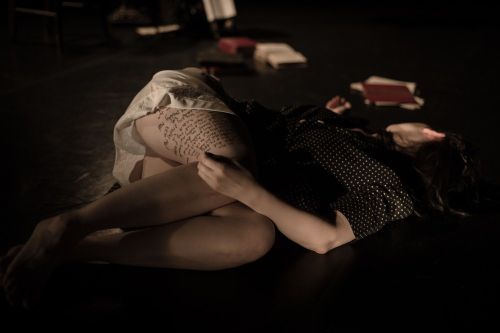 Saturday 16 November. Joelene English is a choreographer, dancer and film-maker based in Newcastle upon Tyne. Her work combines taut choreography, beautiful scenography and emotional performances. She is particularly fascinated by mental illness and its impact on everyday lives.
Joelene's current choreographic work, February 11th 1963, has been commissioned by Dance City and extracts have been presented at the Place as part of Touch Wood, and in the Northern Platforms in Leeds and Liverpool. It will be taken to full production in April 2014.
February 11th 1963
On February 11th 1963 Sylvia Plath took her own life. She left behind a young family, an estranged husband, and words that would inspire generations of women.
In this poignant duet Joelene English fuses movement and film to explore a life bursting with love, poetry, betrayal, despair, and an overpowering desire to escape.
Choreographed by Joelene English
Performed by Joelene English and Wayne Summerbell
Photo copyright www.tophermcgrillisphotography.co.uk


February 11th 1963 is a Dance City commission