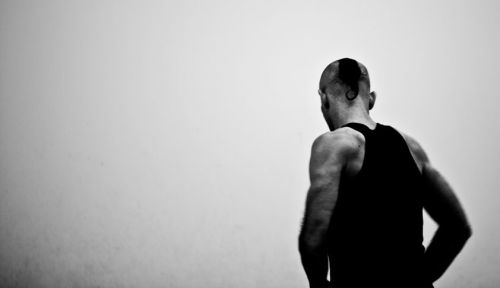 Friday 5 July. Exzeb is a dance company founded in Belgium in 2002, which brings together people from different disciplines and backgrounds.
Exzeb believes that contemporary dance occurs through collaboration and diversity therefore all the members contribute equally to the team. Exzeb's unique synthesis consists of artists from the fields of choreography, dance, music, digital arts, writing and the fine arts.
The company's distinctive element is its autonomy and self-sufficiency. Exzeb relies on its own skills and labour in order to bring all the different levels of the creative process in completion: from the conception of the idea to its implementation, and from the music score to graphics and visual effects.

Artism
The dancer is a selfish and arrogant person. Egocentric, an addict, a sick person he would kill to be on stage. Everything that is not 'him' is his enemy. Paradoxically, we -the choreographer and the public- must accept that he is that person, otherwise, the performance would not exist. But him, does he agree with this?
Encompassing text, voiceover and digital projections Artism gives voice to the one who's often used as an accessory or an anonymous in a group... The dancer. He would reveal him to the public as a complex individuality and an interpreter who seeks to give meaning and clarity to his art... Dancing
The dancer seeks recognition through the public. He lives for it; it's his art, his bread. For him, he is the only one who has the power to be idolized, to inspire vocations and bring dance in front of big audiences.... Maybe he is right?
Choreographed by David Gellura & Kigeli Eric Nyirabahunde
Performed by David Gellura
www.exzeb.com
Facebook: ExzebDance‎