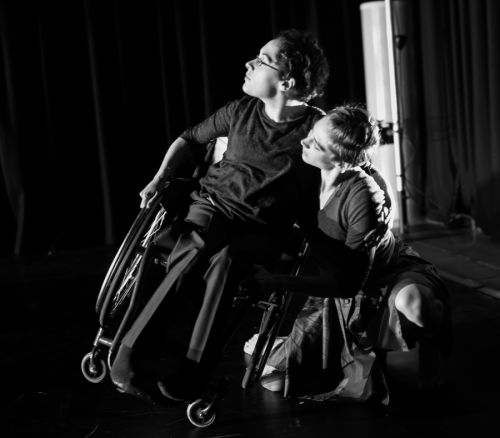 Subtle Kraft Co was formed in 2011 by dance artists, Kimberley Harvey and Anna Bergstrom.
Subtle Kraft Co is an integrated contemporary dance company where movement is an expression of enjoyment, communication and humanity. The company create and present work where relationships and their complexities are explored from many perspectives. Our debut live work, 'Cravings of Intimacy & Solitude' premiered at Resolution! 2012.
As a company, we consciously choose to embrace diverse performing opportunities with different audiences and spaces. This ethos is reflected in our choices to perform 'Cravings of Intimacy & Solitude' at a library in St Helens, Theatre Clywd in Wales, an Arts Festival in North West London, an improvisation in the pavilion at Southbank Centre's Royal Festival Hall, as part of an installation at Sadlers Wells, and a selection of education settings.
Moments: Revisited
'Moments: Revisited' is a development of 'Moments' which premiered in May 2014. In a sense it is also a recreation, as a new dancer brings new energy and experiences; and within this piece it is essential that the individuality of each of us is acknowledged.
Now a trio, 'Moments: Revisited' expresses different types of 'moments' that we experience in our lives and what they mean to us, as individuals and fundamentally, as people. They might be moments that we remember, but it also might be the acknowledgement of this moment right now, the 'present'. The piece looks at how particular moments manifest themselves in the individual bodies of the dancers and how it can lead to interactions and relationships between them. The fact is that even though we may react to these points in time in different ways, we have all experienced these moments in some form or another. So, something that starts as a very individual response, actually becomes something shared and universal, both between the dancers; and between the dancers and the audience.
Choreographed by Kimberley Harvey
Performed by Kitty Fedorec, Kimberley Harvey and Robert Hesp
Length: 12 minutes
web: subtlekraftco.tumblr.comTwitter: @KimbleCake
Facebook: Subtle Kraft Co